Hair-Friendly Highlights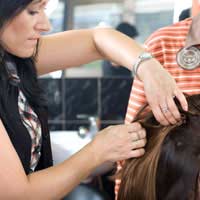 Although highlights do not cover as much of your hair as full colour changes with hair dyes they can still be damaging to the affected strands if not done properly. The key to getting beautiful highlights that won't cause breakage and premature hair loss is choosing the product and technique that is best for your hair type.
How to Prep Your Hair for Highlights
To help avoid permanently damaging your hair when applying highlights it is best to start with the healthiest hair strands possible. If your hair is dry, damaged or suffering from split-ends, you should get a haircut or trim to remove the rough stuff prior to highlighting.
Once your hair is trimmed and ready you should spend 5 to 7 days prepping your hair for highlight treatment. Begin by purchasing a mild shampoo, shampoos formulated for toddlers or children work great for this, and using it to cleanse your hair every day for a week. The milder formula will leave more natural oil on your hair strands that can protect the shaft from chemical damage. Next, purchase an intensive conditioner to deep moisturise your hair seven days before applying the highlights. This will soften your hair and coat the shaft for even more protection.
Finally, avoid heat drying or heat styling your hair for the week prior to highlighting. This will give the hair shaft time to rest and strengthen before the chemicals are applied.
Alternatives to Chemical Highlights
No matter how well you prep your hair for highlighting there is still a chance that the strong chemicals in hair dyes can damage the hair strands. If you want to avoid this possibility all together you should choose a more natural or temporary type of hair highlighting.
Temporary highlights, those that last just until your next shampoo or those that are formulated to last for 5 to 7 shampoos, only coat the hair shaft so they avoid damaging the inner area of the hair strand. Other advantages to this type of highlighting are that the results can be washed out if you don't like the look and that the streaks wash out before roots start to show.
Chamomile tea can be a great alternative to damaging highlights. Simply brew enough tea to thoroughly rinse your hair, and allow it to cool. Apply the tea to your hair and let it sit for about five to ten minutes, then rinse thoroughly with warm water. The tea will lighten certain sections of your hair. Although this technique works great for brown hair colours, it is not recommended for light blondes or redheads.
Finally, for a nourishing treatment that brightens, lightens, and gives depth to drab hair, you can try one of the colour-added shampoos currently on the market. These shampoos contain pigment deposits and are formulated to add highlights and dimension to your natural hair colour.
Safely Highlighting Your Hair
If you still want permanent highlights, or if the alternatives just don't work for your hair, there are still some things you can do to make the highlighting process safer. The biggest reason that highlights don't come out right or cause hair strand damage is that hair isn't healthy enough to begin with.
Never highlight your hair immediately after having it permed or straightened. The harsh chemicals used to curl or straighten locks open the hair shaft and break down the hair cuticle during the treatment process and leave hair strands weaker, and more susceptible to damage. Always wait at least two weeks before applying more chemicals.
Never highlight you hair immediately after colouring or dying it. If you want highlights right away you should see a professional stylist for both the original colour and the highlights. The colouring process also opens the hair shaft and makes further damage from the highlighting process more likely. Plus, the colour of the highlights will not be same on your hair if you have recently dyed it. By giving your new colour time to "set" you can assure better colour matching of the highlights.
Finally, when applying highlights always mix the chemicals exactly as the directions say to, never mix two different types of highlighting chemicals, never leave the mixture on your hair for more than the recommended time, and never blow-dry your hair immediately after highlighting.
With the proper hair preparation and a good hair highlighting kit you can easily enjoy the look of highlights without having to worry about excessive hair strand damage.
You might also like...