How to Choose and Use a Safe Blow Dryer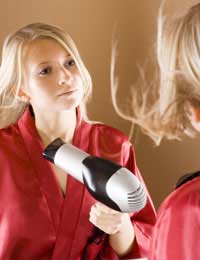 Allowing your hair to dry naturally is obviously the best option if you want to keep your locks smooth shiny, and super healthy. But sometimes you just have to hurry up nature and speed up the drying process. Luckily, with the vast selection of blow dryers currently on the market, you can easily hurry your strands dry and protect them from damage at the same time.
Choosing a Safe Hair Blow Dryer
Blow dryers work by "blowing" water droplets off of the hair strands and heating the strands to cause water evaporation. The right blow dryer can give you completely dry hair strands that feature body, shine, and smoothness. The wrong blow dryer, however, can leave you with brittle strands, split-ends, dry locks, and a head full of hair that is dull, limp, and lifeless.
To keep hair looking its best even after blow-drying choose a dryer model that features anti-static and ionic technology. This advanced technology helps lock moisture into individual hair strands, reduces the time it takes to completely dry hair, and enhances hair's natural shine.Another feature that should be considered a must-have for safe and effective blow-drying is a cold air setting or burst. Blow dryers usually come with at least two-temperature settings- warm and hot- but you will want to look for one with a cool air button. By blasting your hair with cool air at the end of drying you can help reseal the cuticle and protect your hair from further styling damage. The cool burst setting or button can also be used to cool down over-heated strands if you happen to linger too long on one section of hair.
If you have curly hair you will want a blow dryer with a diffuser attachment. This attachment will help keep your curls uniform and smooth by directing airflow from the dryer around hair to ensure even heating instead on straight on blasting it.
Finally, for the safest use, the blow dryer you choose should come equipped with an over-heat sensor that shuts down the dryer if it gets too hot, a swivel cord that will move with the dryer and reduce electrical accidents, and a firm grip handle that resists heat and helps you control the blow dryer during use.
Safely Using a Hair Blow Dryer
Since blow dryers work by concentrating high heat directly on your hair strands even the best ones can be damaging to your hair. To reduce damage to your hair during the blow-drying process, follow these tips…
Always apply a heat-activated hair product to your hair before blow-drying. The additives in the styling product will coat the hair strands with a protective layer thus reducing the damage done by the direct heat.
Always work in small sections of hair at a time and never allow the heat from the dyer to rest on one particular section for more than ten seconds at a time. For the best results keep the dryer moving through your hair the entire time.
Always towel dry hair first to remove excess moisture. By removing as much moisture as possible you can cut down on drying time, thus reducing the time your hair is subjected to the damaging affects of the heated air.

Never hold the hair dryer any closer than 12 inches from your hair. If you hold the dryer too close to your hair you risk burning your hair strands and scalp.

Never use the blow dryer for longer than necessary. Once hair is dry you need to turn off the dryer and allow your hair strands to cool. If you continue blow-drying your hair even after it is dry the heat will strip the hydration from your hair leaving you with frizzy, brittle, and severely damaged hair strands.
Never aggressively style your hair while blow-drying. The heat from the dryer will expand the hair shaft making it more susceptible to damage. If you pull on, tug, snag, or yank hair in this state the strand can break or become rough resulting in split-ends and premature hair loss.
You might also like...