Dyeing Your Eyebrows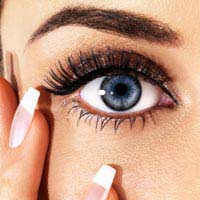 Dyed hair can look odd if it's a distinctly different colour from your eyebrows, but colouring your eyebrows every day with a pencil can be troublesome and tedious. Fortunately it is possible to use most types of hair dye on eyebrows as well. What's important is to know how to do it effectively and safely.
Understanding Eyebrows
In order to dye eyebrows effectively, it helps to know a bit about them. Eyebrow hair is often finer than head hair and it doesn't grow as fast. It usually takes six to eight weeks for an eyebrow hair to reach its full length. This means that it's important to take care not to damage your eyebrows. Gentle brushing twice a day stimulates the skin and can encourage eyebrows to grow faster as well as triggering the production of natural oils which keep them in good condition.
Because eyebrow hair is finer, it may not absorb dye in the same way as the hair on your head. This means that using the same dye may result in your eyebrows looking lighter. This is not always a problem, as it resembles the variance between head hair and eyebrow hair that occurs naturally. It does mean, however, that you may want to dye your eyebrows more frequently than you touch up the dye on your head hair.
Dye Safety
Using any hair product close to your eyes can be hazardous, which is why you should never apply dye to your eyelashes. If you get dye in your eyes, wash them immediately with a lot of water, ideally at room temperature. This will sting but it is really important to fully flush the dye out of your eye, and you will feel better for it later. After you have finished washing your eye, contact your doctor or phone an NHS helpline for advice.
Never use any dye on your eyebrows until you have already tried it on your head hair. This is because, if you have an allergic reaction to the dye, it could cause swelling and be dangerous for your eyes. If your hair dye tends to make your head feel sore or itchy when applied, don't use it for your eyebrows.
Never use dyes that contain bleach (which may be listed as 'hydrogen peroxide') on your eyebrows. As well as potentially damaging your eyes, this will often make eyebrow hairs fall out. Bleach-free dyes are available in almost every shade.
Dyeing Techniques
Two major considerations apply when dyeing eyebrows: doing it safely, and doing it neatly. In both cases the approach is the same - you need to keep the dye from running. Some people like to wear small swimming goggles whilst dyeing eyebrows, because they provide a protective seal around the eyes themselves, but you may find that it's too difficult to see what you're doing if you do this.
Before you dye your eyebrows, wet them and brush them into the shape you want. Don't worry about occasional stray hairs - you can easily pluck them later. Take some Vaseline and carefully use it to cover the skin around the outside of the eyebrow, to stop dye smudging and staining your skin where you don't watch it. Stains will wash away anyway after a few days, but in the meantime they could make you look rather odd.
Apply dye to your eyebrows using a fine, soft brush (a make-up brush will do). Leave it for ten minutes, then wash it off with plenty of warm water, taking care not to get it in your eyes. Remember that further dye could come off the next few times you wash your face, so you will need to take extra care for a while.
After washing, wait for your eyebrows to dry naturally. You can then blot them with tissue and brush them, with a dry brush, in an outward direction. This should remove excess dye. You will be left with striking looking brows which will perfectly complement your hair, whatever your shade.
You might also like...