Hairstyles to Avoid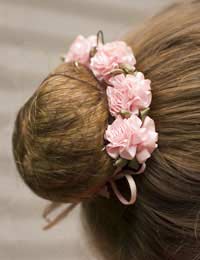 When individuals contemplate styling their hair for the day they are usually thinking about form, function, and good looks. However, another consideration when choosing a hairdo is how that style will affect the health of your hair. While many styles will never harm your hair or cause damage, there are a few hairstyles to avoid.
Avoid Styles That Are Tight
While braids, severe buns, and other tight and polished styles can look great and keep hair tamed and away from your face, these same styles can actually cause hair root damage and strand breakage. When hair is pulled tight, whether into a micro-braid, a severe twist, or tense ponytail, excess pressure is put on the hair root, which can lead to hair loss. Plus, when the hair strand is pulled out at the root due to pressure from tight hairstyles, there is also a risk of hair follicle damage.
To avoid unwanted hair damage while still enjoying these streamlined styles it is best to avoid tight hairstyles and stick with loose braids, like French braids, loose ponytails, cloth or elastic headbands, and low, loose buns. However, remember that the tight style isn't the only way to cause hair damage. Tight closures that are used to hold a style in place, like rubber bands, metal clips, and plastic combs can also grab, pinch, snag, or crimp hair resulting in strand breakage, hair loss, and split ends. Avoid this hair disaster by choosing soft, cloth covered hair ties, ribbons, or wide toothed clips to hold your hair in the style you desire.
Avoid Styles That Require Lots of Hair Product
Another way that you can inadvertently damage your hair through styling is by choosing hairdos that require the excessive use of hair products to hold them into place. Any style that calls for large amounts of hair spray, styling gel, mousse, and balm is probably going to cause hair damage. First, the style itself will probably be tight and put too much pressure on the hair root. Second, the hair products, when used in vast amounts, can smother hair follicles, dry out hair strands, and cause strand breakage, brittleness, and split ends.
If you can't avoid a hairstyle that uses lots of product make sure that you wash your hair as soon as possible, that you use a clarifying shampoo to remove product build up, and that you condition with a hydrating conditioner to help restore your hair's natural moisture.
Avoid Hairstyle Chemicals and Other Unnatural Processes
One of the most popular hairstyle processes, and probably the top hairstyle choice that you should avoid, is chemically processing your hair. Perm, body wave, straightening, colouring, and bleaching processes all cause damage to the hair strand, follicle, and root. The chemicals used in these treatments rob hair of natural moisture and oils, change the dynamic of the hair structure, and break down the keratin that forms the hair strand. No matter how mild or gentle the treatment is there will always be some degree of hair damage.
If you must chemically process your hair it is best to consult with a professional stylists to avoid excessive hair damage. A stylist can choose the chemicals, technique, and moisturising products that are best for your hair type and help minimize the damage that is done to your strands.
Aside from chemical treatments, another unnatural process that can damage your hair is weaving. When individuals choose to change their style with hair extensions, or hair weaves, they risk premature hair loss and hair strand breakage. If you insist on sporting hair extensions then you need to avoid the techniques and bonding methods that can cause the most damage. When having hair extensions added to healthy hairs never use a bonding method that utilises chemicals, heat, wax, micro braiding, or clamping. Instead, opt for weft braiding, which involves the use of a long row of extension hair, and puts less pressure on the hair root and hair strand, thus reducing breakage.
By avoiding the styles that can harm your hair, and opting instead for their gentler, more hair friendly versions, you can look your best day after day and still keep your locks in prime condition.
You might also like...