Professional Hair Extensions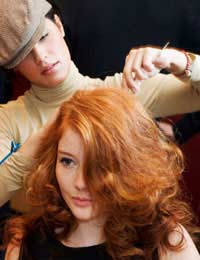 If you have recently tried out a new, shorter haircut and long for the feel of your longer locks, or have thin hair that lacks volume and body, you may be the perfect candidate for professional hair extensions. Hair extensions, the process of adding lengths of real or synthetic hair to your existing hair, can give you an entirely new hairstyle in a short amount of time. However, before rushing to schedule your hair extension appointment you need to understand your options and the processes that are available to you.
Understanding Hair Extensions
Although the concept of hair extensions is pretty simple- a professional stylists applies lengths of artificial or natural hair to your existing hair to give your style added length and volume- the actual application can vary greatly from simple to extremely complex. Plus, some methods are more permanent than others, some are easier to remove, and some cause more damage to your natural hair than you may desire.
If you are contemplating using hair extensions to enhance your current hairstyle your first step should be to consult a professional hair stylist. A professional stylist can analyse the current condition of your hair and make extension recommendations based on your personal hair type and health. Plus, they can explain the pros and cons of each weaving technique so that can you choose the application method that is best for your hair and your desired look or outcome.
Application Methods for Hair Extensions
Depending on the length or added volume that you are trying to achieve, and the amount of permanency that you desire, there are many different hair extension applications that you may choose from. Weaving methods and methods that use hair adhesives are the two most common application techniques.
The main types of hair extension weaving are basic cord tracking, cornrow tracking, and invisible weaving. Basic cord tracking weaving uses a weaving thread and a lock stitch sewing method to attach the hair extensions to your existing hair strands. In this method the extensions are placed very close to the scalp and the thread is woven over the natural hair strand and extension to hold them together and form a strong bond. This method gives the most natural looking results but can put extreme pressure on the scalp and hair root leading to hair strand damage and early hair loss.
Cornrow tracking is very similar to basic cord tracking, however in this technique tiny braids of existing hair are used to weave in the extensions instead of thread. This method can also produce very natural looking results but the small, tight braids that are necessary to form the bond may also put too much pressure on the hair root leading to hair follicle damage.
The last weaving method, invisible weaving, utilises basically the same braiding technique used in cornrow tracking but the extension hair is pulled slightly away from the braid during the process so that the bond is hidden from view. This looser weaving technique results in a much faster application time but the bond does not last as long so more frequent touch-ups and reapplication are necessary.
If you want the look of hair extensions but want to avoid the damage that can be done to hair follicles through tight weaving you may want to consider extensions that utilise adhesives to form the bond. There are two main types of hair adhesives used to place hair extensions- cold bonding and thermal bonding. Cold bonding, also called liquid bonding, attaches the hair extension to the natural hair with a liquid adhesive. The liquid adhesives that contain rubber are perfect for temporary hair extension applications since the material breaks down easily when shampooed.
Thermal, or fusion, bonding utilises wax or Keritan based adhesives to bond hair extensions to the natural hair strands. This application method lasts longer than cold bonding but can still be easily removed with a specially designed heated appliance.
You might also like...