Tools to Style Your Hair Naturally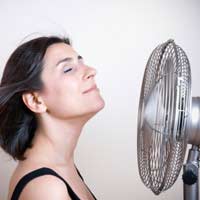 Just because you want to straighten your naturally curly locks, or curl your naturally straight strands doesn't mean you need to damage your hair and risk robbing it of its natural beauty. To keep your hair healthy and beautiful simply trade in your harmful heat-activated styling tools for natural ones.
Straighten Your Hair with Hair Friendly Tools
Curly locks can easily be straightened with a natural bristle brush, a tabletop fan, and a little time. To get the look you desire, start with damp hair and smooth out the curls with a natural bristle brush. Hold the strands straight with bobbie pins or hair clips as you allow the cool air form the fan to speed up a hair healthy air dry. For more straightening section the hair and apply lots of clips to hold down curl, for less straightening only clip the bottom sections.
If you are hoping for relaxed curls but you don't mind a little residual wave, you can straighten your hair with over-sized juice containers. Empty and clean large frozen juice containers after removing both metal ends. Wrap the hair strands tightly around the can and allow your hair to dry naturally, or speed up the process with a tabletop fan. Once your hair is dry, remove the cans for soft, almost straight waves.
Curl Naturally Straight Hair with Hair Friendly Tools
Straight locks are extremely versatile, but sometimes you want a curlier look. To get soft, big curls, wave, and body you can use the same process mentioned above with juice cans. To get extra curl wrap smaller sections of hair around the cans or use smaller cans. Wrap and air-dry for long lasting curl.
You can also duplicate the look of hot roller curls with foam rollers or pieces of cloth. Simply wrap damp hair around foam rollers or roll hair around thick pieces of cloth. Clip the rollers closed or tie the cloth off once your hair is rolled close to your scalp. Let your hair air-dry, remove the curlers, and then fluff for natural looking curls.
For softer wave, or big loose curls you can braid damp hair and allow it to air-dry. Either braid all of your hair in one fat braid for loose wave, or braid your hair into lots of little braid sections for bouncier, tighter curls. You can also vary the type of braid depending on the type of curl you desire. French braids will give you looser waves, where as cornrow type braids will give you kinky curls.
Finally, for last all day waves that look natural and slightly messy, you can scrunch hair under a hair net. Start with damp hair and smooth in an all natural hair gel or mousse. Then, scrunch your locks or twirl pieces around your fingers until a slight wave develops. Next, slip a hair net over your hair making sure to position locks in a wavy pattern. Allow your hair to air-dry, or speed up the process with a fan, and remove the hair net. Shake out the waves and you are all set!
You might also like...