Caring for Permed Hair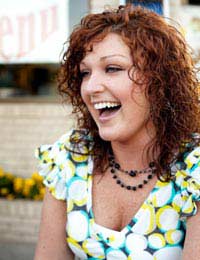 Getting a perm can give you an exciting new look but can also put a strain on your hair. Proper care is essential to keeping it in good condition. For twenty four hours after getting your perm you should do as little to it as possible - don't wash or brush it, and consider keeping it under a cap to protect it from the elements. After that, you'll be ready to enjoy your curls to the full, but don't forget to care for them.
Shampoo and Conditioner
The first thing you need to be aware of with a perm is that it can really dry your hair out, even if you had oily hair to begin with. This means you will need to switch to different hair care products. Some shampoos are specially formulated for permed hair, but any gentle shampoo with moisturiser will do the job. If you have problems with your hair breaking, try shampoo designed for babies.
There is a myth that conditioner weighs down permed hair and shortens the lifetime of a perm. Don't believe this. It's important to condition your permed hair to keep it healthy, and doing so can actually make your perm last longer. In fact, one of the best things you can do for your perm is to give it a deep conditioning treatment every two weeks. This will keep it soft and bouncy.
Hair is always at its most fragile when wet and permed hair can be especially delicate, so be carefully not to tug at it too much as you massage in shampoo or conditioner. After washing, gently pad it dry with a towel. Don't rub. It's best to avoid blow-drying, but if you must do this, stop when it's still slightly damp.
Combing Your Permed Hair
If you ever try using a brush on permed hair, you'll soon realise your mistake. This is a guaranteed way to turn it into a big ball of frizz. Not only is it unlikely to give you the look you're going for, it can lead to your hair getting more dried out and damaged. If you once frizz your permed hair badly it can be hard to get it back into orderly curls.
Fine-toothed combs can also create problems with frizz, so the best option is to use a wide-toothed comb. A wooden comb is ideal as it won't build up static electricity. Although your hair will be more prone to tangling than when it was straight, it's important not to comb too aggressively, or you will damage the shape of your curls. For bad tangles, use your fingers first and only then switch to the comb.
Cutting Permed Hair
When you've finally got your hair looking just the way you want you may be loathe to cut it. Cutting is, however, essential to maintaining a healthy perm. This is because your hair will gradually break at the ends due to dryness. Try to get it trimmed at least once every two months to stop split ends from developing and working their way up the hair.
Regular haircuts will also keep your hair from getting too heavy, helping you to maintain bouncy curls. Of course, every perm falls out eventually. This varies by hair type and can happen any time between two and six months. Ideally you should give your hair a rest and make sure it's healthy before perming again. This means you'll get better results and you can enjoy fantastic looking curls.
You might also like...