Colour Options for Afro Hair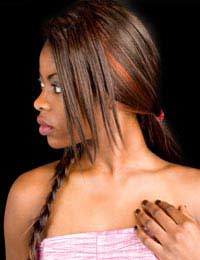 Too often, afro hair is treated as something that provides a limited number of styling and colouring options, something you really can't do much with - at least if you want to keep it in good condition. In fact there are plenty of things you can do, it's just that many hairdressers don't know much about them. The good news is that you can get great colour effects on your own at home, creating an impressive look at a low price.
Traditional Dyeing Techniques
Traditional techniques for dyeing afro hair focus not on stripping natural pigments out of the hair but on painting or staining over the top of them. This is the healthiest way to dye your hair and can be done regardless of the condition it's in.
The oldest dyeing technique used on afro hair involves henna. Exactly what colour this leaves you with will depend on your natural shade; on brown hair it will produce rich russet tones, whilst on jet black hair it will produce highlights and create a coppery sheen where your hair catches the light. It tends to give hair a richer, more nuanced look and will also leave it in glossy, healthy condition.
Henna is easy to apply at home. It's gentle on the skin, but you should always wear gloves, as it can stain your skin as easily as it stains your hair. to prevent it marking your brow, first apply a line of vaseline up against the edge of your hairline.
A more modern way to add character to afro hair involves the application of semi-permanent chemical dye, which works in a similar way. Crimson, blue and purple tones tend to work well in dark hair. When experimenting, be careful to check how they look under different lights, as the effect can be quite subtle but striking once illuminated directly.
Doing Something Different
The only way to apply brighter colours to afro hair, or to lighten it, unfortunately requires stripping out its natural pigments first. This can be very hard on their hair and should only be done if it's in really good condition to start with. It tends to work best with shorter hairstyles, in which individual hairs don't have to be maintained in prime condition for as long.
Bleaching afro hair won't give you a blond look the first time around without turning your hair to straw. To lighten it effectively, apply the bleach in two or more stages, each at least two weeks apart. After the first stage your hair may look orangey. This may not be a problem if you plan to dye it a brown or reddish tone, and you can apply a bleach-free dye (preferably with a conditioning element) straight away, but otherwise you may want to cover it.
Not all afro hair is capable or reaching lighter shades in good condition, so don't try to go blonde without a back-up plan. If, however, you approach it slowly and carefully, you may be surprised at the effect you can achieve. Once you've stripped out those orange tones, you can dye it any colour you like.
Dyeing Straightened Afro Hair
Because straightening or relaxing techniques can be quite hard on your hair, you shouldn't apply any permanent hair colour, or colour containing bleach, at the same time as a straightening treatment. This applies just as much if you get your hair treated in a salon as if you do it at home. You should leave at least two weeks between straightening and dyeing treatments.
If you use a bleach-based treatment on your hair you will need to look after it very carefully afterwards. Getting it relaxed in a salon is still okay, but using hot iron straighteners at home is a no-no. It's too easy to end up with dry, frizzy hair as a result. It's better to colour first and have your hair relaxed afterwards, as relaxing can sometimes alter the effect of your hair dye.
Straightened hair is best dyed using a gentle semi-permanent dye with a built-in conditioning element. For the first two weeks after dyeing, wash your hair with conditioner but no shampoo. This will help it to build up the resilience it needs to look beautiful for months to come.
You might also like...
@Kimmy. Hope are article provided some help? Unfortunately we are unable to mention specific brand. Can any of our readers help Kimmy? Please post here.
HairExpert
- 25-Nov-14 @ 12:07 PM
Hi l am a qualified stylist and have been asked by my friend who has afro hair if l can hi-lite with foils her hair only lifting say 1-2 shades with 2 ccolours. Now as l have limited experience with afro hair any suggestions on good colours and the main question is can i still use my normal hair tints Loreal,Wella .... will it still lift ok? any precautions l should know about pls.. l want it to look great for her, would appreciate any advice Thanks x
Kimmy
- 23-Nov-14 @ 6:14 PM