Choosing Products for Afro Hair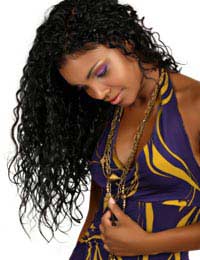 Afro hair often needs intensive care in order to stay healthy and beautiful, yet finding information about how to care for it can be difficult. Most hair care advice is geared toward people with other hair types and even the experts often misunderstand the particular issues afro hair can develop. Fortunately there's an increasing variety of great products on the market to help you keep your hair in tip top condition.
Nourishing Your Hair
Afro hair is often drier and more fragile than other hair types. Because it also tends to get tangled easily, it can be vulnerable to breaking. Keeping it well nourished will decrease the risk of this and will also make to easier to manage.
Specially formulated products like those in the Curls range or Joico K-Pak ranges, easily available over the internet, can help yo give your hair the extra bounce and vitality it needs. They can also help to mitigate the damage if you are frequently using heat treatments to relax or shape your hair. A natural alternative is olive oil, which you can simply rub into your hair and leave overnight before showering in the morning.
If you want to use one product for both hair and skin, the simplest solution is to try Shea butter. This gentle nut oil product will nourish your hair at the same time as soothing your scalp, and it's the perfect choice if you suffer from allergies.
Shampoo and Conditioner
Alongside these nourishing treatments, it's important to use a good conditioner. If you can't get one specially designed for afro hair, choose a dry hair conditioner. Coconut oil conditioner is particularly good. Damaged hair can benefit from monthly deep conditioning treatments using coconut oil products such as Vatika, available from most Middle Eastern suppliers, which are designed to be left on overnight.
The downside of using oil-based treatments is, of course, that oil can build up on your scalp, leading to infections and potentially damaging your hair at the roots. A good shampoo like KeraCare will prevent this problem by stripping away excess oils without damaging your hair. Make sure you rub it into your scalp thoroughly as well as massaging it into the hair itself.
Detanglers
Sometimes even when you keep your hair in good condition, tangling can be a problem. It's important to be gentle with your hair and not simply tug tangles free. A good detangler will gently lubricate the hair, enabling you to slide it gently apart with your comb with minimal hair loss. It will also help to prevent static build-up, so you won't suffer from frizzy hair.
The number one detangler for afro hair is called, simply, Afro-detangler. You can massage it into wet or dry hair and just leave it in place. Unlike some detangler products, it won't make your hair feel stiff or heavy later, but will leave it smooth and easy to manage. It's a particularly good choice for long hair, as it will also help to prevent the ends from becoming damaged.
Looking after afro hair can be hard work, but if you use the right products and give it the care it needs, it can be strikingly beautiful.
You might also like...