Caring for Your Scalp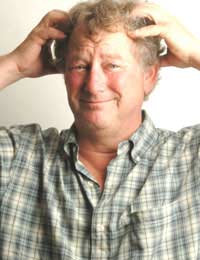 All too often, healthy, beautiful hair can be marred by problem scalp conditions. The products we use on our hair aren't always kind to our skin, meaning that the scalp can suffer. What can you do to take better care of your scalp and improve the way you look and feel? What should you avoid, and what remedies are available when things go wrong?
Basic Scalp Care
Although it's only a few millimetres thick, the scalp is a complex, highly specialised organ that needs to be well looked after. In order to make sure we protect our brains it's extremely sensitive to pain and discomfort. It also needs good nutrition in order to maintain its health and keep hair follicles in good condition.
Glands on the scalp produce oil to lubricate hair. It's important to brush or comb regularly so that this oil is drawn through the hair and doesn't clog up pores. You should massage shampoo directly into your scalp for two to five minutes every time you wash your hair, in order to clean away excess oil. When applying mousse or gel, try to rub it into the hair a few millimetres away from the scalp and not into the skin itself.
The scalp is easily damaged by overheating and cannot take as much heat as your hair. If you must use your hair dryer on its hottest setting, always direct it across your scalp rather than directly against it. In chilly weather, wear a close-fitting hat to prevent damage by the cold, especially if you have thin or fine hair.
Caring for a Flaky Scalp
One of the most common scalp problems people experience is flaking. This is often painless but it can make your hair look a mess and leave unsightly specks on your clothes. There are several reasons why it happens but by far the most common is that the scalp is too dry.
If you have generally dry skin, it's possible that your scalp doesn't produce enough oil. The solution is not to stop shampooing, as it's still important to clear away old oil before it becomes unpleasant. Instead, use a gentle shampoo such as one designed for babies. Follow up with a moisturising conditioner and let your hair dry naturally. If you use a towel to dry, pat rather than rubbing.
For flaky scalps, brushing is better than combing. Regular firm brushing should stimulate natural oil production. If you suffer from eczema or a similar condition, ask your doctor if this could be a factor in ongoing problems. If it is, you may need specialist treatment.
Caring for an Itchy Scalp
Itchy scalps can also occur for a variety of reasons. Once you have ruled out head lice infestation, the next thing you should consider is an allergy to one or more of your hair care products. Allergies can develop even after years of use. They're especially common with dark hair dyes. Test the product on a small patch of skin on your arm to see if it causes problems there. If you suspect it has, try cutting it out for a while and see if the itching goes away.
If your scalp is both itchy and flaky, you may have dandruff. This is caused by a fungus growing on the scalp and feeding on built-up oil, which means that more frequent washing is needed even if this seems to make the flaking worse at first. The fungus excretes an acid which burns the scalp, causing the itching. It can usually only be got rid of using a medicated shampoo like Head & Shoulders.
If you have ongoing scalp problems, you can buy special serums designed to be massaged in for a deep cleansing and nutrition treatment every two to three weeks. These will help to restore a healthy balance of the chemicals your scalp needs to do its job. They will prevent the development of uncomfortable scalp conditions and will help to ensure that you have fabulous hair.
You might also like...