Straightening your Hair at a Salon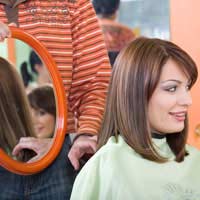 If you have naturally curly or wavy hair and long for the sleek polished look of straight locks, you have several options for eliminating the bend in your hairstyle. Depending on how permanent you want the look, and the current health of your hair, a salon can offer you many choices for straightening your hair.
Hair Straightening Methods
There are six main methods for salon hair straightening- blow outs, hair irons, wet-to-dry straightening, traditional relaxers, Japanese (thermal) straightening, and Brazilian straightening. Which method you and your stylist choose will depend on how permanent you want the look to be, the current condition of your hair, your hair type, and what other styling treatments you wish to use on your straightened hair.
A blow out is simply a straightening method that involves the use of a brush and a blow dryer. In this method the stylists runs your hair over the brush, working with small sections, while applying heat until the hair is dried into a straight style. This method is not permanent, and it will not result in perfectly straight, smooth hair, but it is less damaging to your hair strands than chemical straightening.
Hair irons and wet-to-dry straightening methods both rely on heated metal or ceramic plates to flatten curly hair into a straight strand do. The heat irons are used on dry hair and pulled down the strands to heat out curls and waves. The wet-to-dry method combines a flat iron and a blow dryer to dry wet hair and straighten out the curl at the same time. Again, neither of these treatments is permanent but they cause less damage to the hair.
Traditional relaxers straighten hair with the use of chemicals, usually sodium or other hydroxide mixtures. In this process the chemicals are used to breakdown the structure of the hair and release the natural tendency to wave or curl. This type of hair straightening is permanent, at least until new hair grows in, and can weaken the hair shaft or follicle, causing split ends, dryness, and strand breakage.
Another chemical process that is gaining popularity for hair straightening is called Japanese or thermal straightening. In this process heat and a cornstarch-based product is used to cause oxidation. The oxidation rebuilds the structure of the hair causing it to let go of its curl and seals the strands to help hold the new style. While this hair straightening process may not cause as much damage as traditional relaxers, it can still be harmful to damaged, chemically treated, or extremely kinky curled hair.
Finally, the last type of permanent hair straightening is Brazilian straightening. In this process the keratin in the hair is manipulated to remove curl and hold in the new straight style. Since the make-up of the hair strand is changed this process can still cause some hair damage but it is considered safer than traditional chemical relaxation methods.
How Chemical Hair Straightening Is Performed
Although certain methods require different processes and steps, most chemical straightening techniques include the same basic steps.
The chemicals used for straightening are applied to clean, dry hair. These chemicals can be brushed, combed, or painted onto the hair strands.
After a processing time that is determined by the type of chemical and the health of your hair, the hair is rinsed in warm water.
To stop the chemical reactions a neutraliser is applied to the hair strands next. To ensure complete neutralisation, the product is usually massaged into the hair strands and left to penetrate for a few minutes before being rinsed thoroughly with warm water.
Next, the hair is towel-dried and gently combed or brushed into style. In some cases, especially when straightening coloured or damaged hair, a conditioner may be worked into the damp hair to replace moisture and flexibility.
Advantages to Having Hair Straightened at a Salon
Although you can straighten your hair at home with a blow dryer or hair iron it is better if you visit a salon for chemical straightening treatments. Professional stylists are trained to evaluate and analyse hair in order to pick the right type, the right chemical strength, and the right processing method and time for all different types of hair and hair conditions. By having the processes performed by a professional you can achieve a better, longer-lasting, healthier look.
You might also like...