Which Comb or Hairbrush?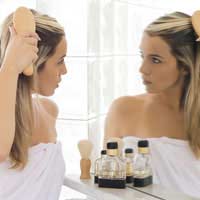 You may think that the easiest part of looking after your hair is combing or brushing it, but in fact the type of comb or brush you use can have a dramatic effect on its condition, as well as on the health of your scalp. Different combs and brushes are suitable for different people, so how should you work out what's right for you?
Brush or Comb?
The first and simplest thing to decide is whether you need a brush or a comb. In most cases it's best to use both, starting with the comb - never use a brush when your hair is still damp after washing. If you have frizzy curls, however, it's best not to use a brush at all, as this will only make your hair harder to control. In this case, use a strong, wide-toothed comb followed by a finer comb to tame loose strands after styling.
If you have a very short style, you may not need to use a comb, but may find that a small brush with relatively rigid fibres does the job just as well and gives you extra lift.
Choosing a Comb
There are many different kinds of comb on the market, but for most people the best choice will be a wide-toothed comb, which is gentle on the hair and gives you lots of flexibility when it comes to removing tangles. Finer combs are suitable for thinning hair and young children's hair, or can be used for finishing off a style.
Don't use metal or nylon combs (or brushes) because they can quickly build up static electricity in your hair. Apart from being unpleasant, this will make it harder to style. The best material for a comb is wood, as this has sufficient strength but will slide easily against your hair without damaging it. For fine combs used in styling, horn is ideal, though it can be expensive.
Choosing a Brush
There are some simple rules to follow when choosing a brush. Every type of hair will be healthier if you choose a brush with rounded bristles; these are also kinder to the scalp and will gently massage it rather than scratching. The best brushes are made with boar bristles.
The longer your hair is, the bigger your brush should be, so that you can brush your hair with just a few smooth, even strokes. For short fine hair, a small brush will make it easier to create lift.
If you are trying to tame curly hair, you'll find that it's easier to do with a heavier brush. Round brushes are useful when styling curls and can also be used to enhance waves in straighter hair. You can get more style control using a brush with an inbuilt thermal element, but this is a bad idea for longer styles (or if you are trying to grow your hair) as it can gradually cause damage over time.
If your hair is thinning or receding, it's important to use a soft hairbrush to protect it. This is also the best choice for looking after the hair of children under three. Whilst you may think it's also the best choice for dry hair, however, you'd be wrong - in that case it's better to use a brush with strong bristles that will stimulate the oil-producing glands in the scalp and draw their oils down through the hair, a natural conditioning process.
You might also like...