Curling Hair Without Chemicals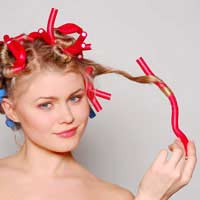 Perms and body waves can be great options for individuals who want around the clock curls. But what if you just want to add some bounce for a special occasion or what if your hair isn't healthy enough to undergo a permanent curling process? Luckily, there are a few ways to get the curl you want without the permanency or the use of damaging chemicals.
Hair Curling Tools
The three main types of hair curling tools are a curling iron, hot rollers, and regular rollers. Curling irons have long round barrels that come in a variety of widths and use heat to set a curl. For smaller curls choose a smaller curling rod, and for big curls or soft waves choose the largest curling rod. When using a curling iron to curl hair always start with the lowest temperature setting and move up until you find the right temperature to deliver the right amount of curl in order to avoid damaging the hair strands. Also never leave the hair in the curling iron for longer than ten seconds, and never use a curling iron on wet or damp hair.
If you want the curls but don't have time to curl each hair section one at a time, hot rollers may be the solution for you. Hot rollers look like regular hair rollers, however they are designed to be heated first before wrapping with hair. The advantages to this curling process include less styling time, controlled temperature that lessens the damage done to hair, and a longer holding style.
Finally, if you really want your style to last, and you don't want to have to rush around in the morning curling your hair, you can use regular rollers. These rollers come in many different styles, Velcro rollers, sponge rollers, cloth rollers, and plastic rollers, and can be used on damp hair the night before a style is needed. Simply wrap slightly damp hair around the rollers before you go to bed and remove in the morning.
Prepping Your Hair for Long Lasting Curl
Once you have settled on a hair curling tool there are a few things you can do to help hold the curl and make the style last longer. The simplest technique is to avoid washing your hair just prior to curling. Hair that is a bit dirty will have more texture resulting in a stronger hold and a longer lasting style.
You can also use curl enhancing hair care products to get the most out of your temporary curly style. Specially formulated shampoos, conditions, mousses, styling gels, and hair balms are designed to bond to the hair and enhance the curl pattern. Just remember, a little goes a long way. Too much product and your curls will be weighed down, flat, and unhealthy looking.
Finally, you can help your temporary curl hold by spraying your style with a light hold hairspray. Flexible hairsprays offer lightweight hold for curls, but never interfere with the bounce associated with a head full of waves and coils.
Keeping the Curl
Once you have gone to all the trouble to curl your hair you will definitely want to keep it looking great for as long as possible. If you want the curl to last over twenty-four hours you will need to slip your locks into a shower cap or hair net before you go to bed. The cap will keep hair from being pulled straight and keep weight off of the curls. A hairnet or shower cap is also a good idea if you will be outside in the wind, exercising, or undertaking any other activity that could pull out your curls.
Another way to keep your curls looking great even through the night is to sleep on a satin or silk pillowcase. The smooth texture of the pillow covering will allow curls to glide as you toss and turn and reduce the amount of disruption a night's sleep can do to your hair.
You might also like...