How to Take Care of Permed or Colour Treated Hair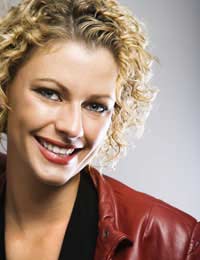 Having your hair permed or coloured is a great way to add style and versatility to otherwise limp or dull hair. However the chemicals used in these popular treatments can leave your hair dry, brittle, and damaged. In order to combat the hair strand damage caused by these processes and keep your chemically treated hair looking healthy and luxurious you need to follow a few simple rules specially formulated for permed or colour treated hair.
Shampooing and Conditioning Permed or Colour Treated Hair
Chemical processes such as perms and colourings change the structure of the hair strand and weaken the hair's inner cuticle. This makes the hair strand, root, and cuticle more susceptible to further damage. Because of this you need to cleanse and care for chemically treated hair very gently.
When choosing a shampoo look for one that is specially formulated for permed or colour treated hair. These shampoos will have a milder formulation and will also contain higher levels of ingredients that can soften, hydrate, and protect damaged hair. You can also choose a shampoo that is formulated for children since the detergent formulation will be milder and less likely to strip the hair of its natural oils.
Good conditioners for permed or colour treated hair are those that are specially formulated for chemically processed locks or those that are formulated for intensive moisturising and hydration. Look for conditions that utilise jojoba oil, almond oil, avocado oil, or vitamin E.
Along with conditioning your hair after each shampoo, you will also want to deep condition your chemically treated hair for adequate hydration. Leave-in conditioners are great for daily conditioning and will help protect damaged or weakened hair strands during regular wear and styling. Hot oil treatments and deep conditioning cream applications that are used once a week and left to sit for 5 to 30 minutes will saturate the cuticle of the hair and help strength the weakened strands from the inside.
No matter which type of shampoo or conditioner you choose make sure that you rinse the product from your hair thoroughly before leaving the shower. Product build up can cause excess dryness in damaged hair strands, leading to brittleness, split-ends, and breakage.
Styling Permed or Colour Treated Hair
Because chemically treated hair strands are weak and more susceptible to breakage you will need to be extra careful when styling permed or colour treated hair. Start by changing how you brush or detangle your damaged locks. Only comb or style wet hair with a wide-toothed comb or styling pick. Regular combs and brushes will pull on hair strands and lead to split-ends, breakage, and the pulling out of hair at the root.
Styling products can also aggravate hair damage if they are too heavy or leave too much build up behind. Only choose light or mild forms of hair gel, mousse, balms, and hair sprays. These versions will help hold your style without stripping the hair strands of much needed moisture and hydration.
Finally, eliminate or limit the use of heated styling tools. Heat tools can further damage chemically treated hair by drying out the hair strands. If you must use a blow dryer allow your hair to dry naturally as long as possible before applying heat. This way the drying time will decrease and you will not have to expose your locks to drying heat as long. If you must use a curling iron, straightener, or hot rollers, set the tool on the lowest heat setting and limit the time your hair is in contact with the heated tool.
Do's and Don'ts of Taking Care of Permed or Colour Treated Hair
Do have your damaged hair trimmed at least every six months to eliminate unhealthy hair and split-ends. This will help your chemically treated locks look healthier and more luxurious.
Do protect your weakened hair from the environment. Excessive sun exposure, or exposure to chlorine, can further dry out damaged hair and lead to brittleness and frizz. If you will be in the sun apply a leave-in conditioner with UV protection to your locks. If you swim, wet hair before entering the pool to limit how much water your hair absorbs and thoroughly rinse and cleanse hair immediately after exiting the water.
Don't choose tight or restricting hairstyles, such as elaborate updos, micro braids, or ballerina buns. These hairstyles can put excess pressure on the hair strands and pull them out at the root, or cause breakage and split-ends. Instead, choose gentler styles such as loose ponytails, low buns, and French braids
Don't over process your hair. If you have colour treated hair do not get a perm, and vice versa. The double processing can destroy the hair cuticle and permanently damage hair strands. If you must double process wait at least two weeks between treatments and have the processes performed by a professional stylist.
You might also like...