Natural Ways to Care for Your Hair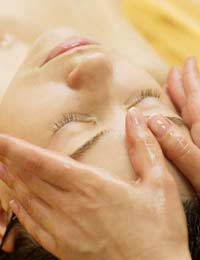 Caring for your hair naturally doesn't just stop with the use of natural shampoos, conditioners, and styling products. You can also ensure that your hair stays healthy, beautiful, and damage free by caring for it naturally.
Nurture Your Hair with a Scalp Massage
Healthy hair is pampered hair and massage is a nourishing luxury. Think about how great your body and muscles feel after a relaxing massage. Well, your hair and scalp can benefit from the same procedure. Scalp massage can stimulate circulation to the hair follicle boosting the amount of nutrition your hair receives from the body. These extra nutrients feed the hair to give you stronger, shinier, healthier, more beautiful looking locks.
Plus, if you add nutrient-rich hair oil to the process you can double the benefits of the massage. If your hair is dry you can use a hydrating hair oil to boost the moisture in your hair as you boost circulation to your scalp. If your hair is brittle or damaged you can use a lubricating hair lotion as you massage to coat the hair strands and provide protection for weak strands against styling damage. Finally, if your hair is fine or in need of extra volume you can massage with a thickening hair balm and add body and fullness to your hair while you stimulate your hair follicles.
Enjoying the benefits of a scalp massage is super easy. Simply use the tips of your fingers to apply gentle pressure to the area of your scalp. Start at the front hairline and using a small, compact, circular motion rub the skin of the scalp from your hairline back to your neck. Repeat the process on both sides from the crown of your scalp to your ears. The massage can last anywhere from five to fifty minutes depending on how much time you have to devote to the process, but remember the longer you massage the healthy your hair can become.
Take Steps to Protect Your Hair From Damage
Another way to care for your hair naturally involves protecting it from damage in the first place. Wear a stylish scarf, hat, or hair wrap when you are out in the sun to protect your strands form the damaging effects of direct sunlight. These natural hair accessories also protect your hair against chemical pollution in the air that can dry out hair and weaken the hair strands. Finally, a well-worn hair covering can protect your hair from the drying effects of the wind.
Be Gentle With Your Hair to Keep It Healthy
Perhaps the best, and easiest, way to care for your hair naturally is to treat it gently. Throw out those metal combs, stiff bristled brushes, high heat hair dryers, and hair irons. All of these items can severely damage your hair. Instead, use a plastic, wide-toothed comb to style hair or choose a soft, natural bristle brush to shape hair into place. Air dry your locks instead of using heat, and tousle the strands with your fingers during the process, for extra lift that is gentler to your hair than blow-dryers.
You might also like...