Record Breaking Hair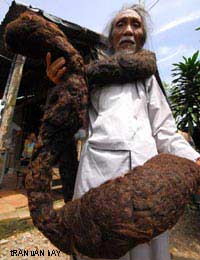 Have you every thought about doing something really dramatic with your hair? These people have taken hair to an extreme, with results that may amaze you. Their remarkable hair has certainly made them stand out from the crowd!
Longest Hair
People often ask how long it is possible for hair to grow. The answer is that every individual has their own limit, with most people unable to grow healthy hair that hangs down past their waists. Genetic factors are part of the explanation. East Asian people are generally able to grow the longest hair, and although long styles are more common on women, there's some evidence that men have an advantage when it comes to growing really long hair.
One such man was Tran Van Hay, from Kien Giang province in Vietnam, who died in February 2010. His reason was simple, at least according to his wife Nguyen Thi Hoa - he simply hated getting haircuts. Although his hair was never formally measured, it is believed to have been around twenty two feet in length. He wore in braided and coiled round, as he also hated combing!
The longest hair grown by a woman belongs to Xie Qiuping on Guangxi province, China. In 2004, her hair was measured at eighteen and a half feet - almost four time the length of her body! She started growing it in 1973, at the age of thirteen, and keeps it neatly washed, combed and styled at all times.
Looking after long hair can be a lot of effort, and that applies to facial hair too. San Francisco's Larry McClure, owner of the world's longest handlebar moustache, reckons he spends almost a hour a day grooming it. In 2010 it was officially measured at thirty one inches.
Striking Hairstyles
If you can't grow your hair long enough naturally, you could consider having it lengthened artificially. In 2008, New Zealander Alistair Galpin had six and a half metre extensions braided into his hair. "I'm hoping there's no major gusts of wind," he said at the time, acknowledging that adjusting to the hair could be difficult and that it would be a lot more trouble to look after than long natural hair.
Some people take record breaking hair to new heights. In the same year as Alistair took on his extensions, Nebraska man Eric Hahn, a guitarist with punk band The Filthy Few, broke the record for the world's tallest hair. His spectacular mohawk measured twenty seven inches.
A Sporting Chance
Those who can't beat the records for hair length or height may still make an impression in unexpected ways. For instance, in 2009, the world's strongest hair was recorded as belonging to He Jianma from China's Hunan province. He used it to pull a bus weighing over eight tons for a distance of thirty metres.
Another athlete, Californian Troy Polamalu, is the owner of the world's most expensive hair. The popular American Football player, who defends for the Pittsburgh Steelers, is famous for his long, thick black hair. It's much loved by his fans, to the point where it has been insured for one million dollars.
Finally, if you can't break records with your own hair, how about with other people's? Connecticut's John Reznikoff is famous as the owner of the world's largest collection of celebrity hair, with over a hundred and ten locks and strands from some of the world's best known stars. Whilst he describes this as primarily a financial investment, it's clear that he's crazy about hair!
You might also like...