Building a Beehive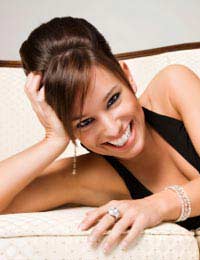 If you're a fan of big hair, there's nothing that can make you stand out more than a beehive. Combining retro chic with modern glamour, it's a great way to make a statement, and it can look good with almost any outfit. But how can you get your hair into this unusual style? How much hair do you need to make it work, and how much time does it take to put together? Can it be practical as more than just an occasional evening style?
Beehive Basics
To build a beehive you will need hair that reaches at least as far as your shoulders. If you are styling your hair by yourself, it's actually easier to work with at this length than if it's longer. It doesn't matter whether it's straight or curly.
As a rule, its a bad idea to build a beehive out of hair that has recently been washed. Give your hair a day or two, brushing frequently to move the natural oils produced by your scalp along its length. Fortify it with a strong styling gel or mousse and have hairspray on hand to help you control it as you work. You will need a strong brush to use when styling it.
Traditional Beehives
When beehives first became fashionable in the 'sixties, there weren't as many helpful styling products as there are today. Consequently, beehives had to be constructed in a more painstaking way. This is still the best approach to use if you want a really smooth, elegant looking beehive for a special occasion.
If you have fine hair, you may need hot rollers to give it extra body before you begin. Start by dividing your hair into two portions, front and back. Take the rear section and grip it at the base of your neck like a ponytail, then draw it upwards across your scalp, twisting it as you go, and secure it at the crown with kirby grips. This will form the 'spine' of your style.
Once this is in place, take the front section of your hair and draw it upwards to curl it around the spine. Tuck away the ends of your hair underneath and secure them using further grips, then finish with hairspray. You may need to practice a bit to get this right, and it can take a while to tidy, but it looks very impressive.
Contemporary Beehives
Rather than being structured as above, contemporary beehives are built using backcombing and teasing. The trick to a good looking beehive or this sort is to separate the very front section of your hair and brush it forwards before you begin. You can then tackle the rest of your hair strand by strand, holding each strand at the end and brushing backwards towards the root to create volume.
Once you have volumised your hair in this way, draw together the strands on the top of your head and tuck them into a bun using grips. You can then wind the rest of your backcombed hair into this bun, gradually building it higher. Finally, draw up the unteased hair from the front of your head and wrap it over and around your beehive for a smoother finished look. Use your hands rather than a comb to avoid damaging your fragile teased hair, and finish with lots of hairspray.
Looking Good with a Beehive
Why do some people look better than others with beehive hairstyles? For the most part, it's not about the shape of the face or the type of hair, it's about the angle of the style. Many people who understand the technical process of building a beehive don't understand the aesthetics.
To look good, the slope of a beehive should follow the angle of your cheekbones. This will flatter the lines of your face. A beehive that sits too far forward will look unbalanced and will emphasise your brow, not everyone's best feature. If you strongly prefer a forward-positioned beehive, leave some hair free at the front to fall across your face in an asymmetrical fringe, rebalancing your look.
You might also like...