Choosing the Perfect Bob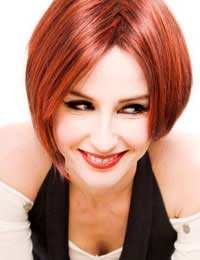 Bobbed hair always looks stylish. It can be a great way to flatter your face and accentuate your image, but what sort of bob would be best for you? This depends on your hair type and colour, your face shape, and what kind of statement you want to make with your hair. Finding the right bob will bring out your natural beauty and help you express your personality.
Face Banding
To work out what sort of bob will best flatter your physical features, it's useful to imagine a series of bands or stripes across the face. The first of these is at the level of the eyes, the second at the level of the cheekbones, the third at the level of the lips and jaw and the fourth at the base of the chin.
The 'safest' kind of bob, which suits almost anybody, comes right down to the fourth band. This creates a very soft, feminine appearance, especially for lighter hair colours. It's sometimes associated with shyness as it makes the bones of the face less prominent. It can be a good choice if you want to draw attention to your eyes and lips whilst hiding heavy bones or a square jaw. It works well in straight hair with a feathered edge.
Bobs with Impact
To give bobbed hair more impact, it should be cut to the level of one of the higher bands. A bob cut to the first band, 1920s-style, can look quite hard and doesn't suit everybody, but is really striking on people with low cheekbones and strong eyes. It can suit any hair colour and works best with strong eye make-up. Bobs of this length normally need some body, so consider adding a wave or curling the edges where they fall across the face.
The most popular type of bob is cut to band two, to emphasise the cheekbones. This can make even modestly high cheekbones look much more striking. Small kiss curls or feathering across the cheeks themselves adds impact. The look is severe but chic rather than aggressive. It works best with darker hair.
In many ways, the most striking type of bob is that cut to the third band. This is because it emphasises a strong jaw, not a traditionally feminine feature but nevertheless one that can be flattering to many women. It also emphasises the lips and works well with dark lipstick for added impact.
Fringe Benefits
The impression made by a bob is also affected by the way the fringe is cut. The important band to be aware of in this case is the eyebrows. The fringe on a bob will usually reach the eyebrows, to help balance the face, but sometimes it will reach just past them to give the impression that you are peering out from under it. This can work especially well with very thick hair.
Softening the fringe of a bob by feathering it can make your hairstyle look more traditionally feminine. Curling it just slightly, so that the ends of the hairs turn inwards towards your face, will make it look sleek and chic. Cutting it completely straight and leaving the hair flat will create a more severe look, especially with dark coloured hair.
Curly Bobs
Some people feel that curly hair can't look good in a bob, but this is far from the truth. If you look back at the silent movie era when bobs were all the rage, you'll see that many stars of the time had curly hair. It can be necessary, however, to cut curly hair more severely or to subject it to more treatments in order to make it work in this style.
Straight hair is easy to look after in a bob because, with the right cut, it should just hang where it's wanted. Curly hair tends to be more unruly, so you can choose to tame it with hairspray or to pick your preferred bob with your hair's natural behaviour in mind. For instance, if it tends to stick out at a particular level, this may be the best place to get your bob cut to, to take advantage of that natural shape. Simple kirby grips are ideal for holding it back further up at the sides of your face.
No matter your hair type, there is a bob that can work for you. Although you'll need to get it trimmed regularly to keep it in shape, you'll find that overall it's low maintenance and easy to manage. It's a great way to make a big impression with a simple style.
You might also like...