Give Yourself Big Hair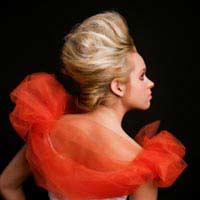 Back in the 'eighties, big hair was a big thing, and every celebrity had dramatic locks. Now the fashion is returning but the knowledge of how to get that look has all but disappeared from circulation. Achieving a big hair look isn't dependent on being naturally endowed with really thick, resilient locks. In fact, most people can do it - you just have to know how.
Choosing the Right Style
Big hair doesn't have to be long hair - it's about making the most of what you've got. If you've kept your hair fairly short over the past few years you can still make an impact by making it look taller and more voluminous. A shaped bob can dramatically enhance your cheekbones or you can sweep your hair forwards and perm the ends to create a dramatic fringe.
Longer hair presents its own challenges, as its sheer weight can quickly pull it out of shape. Many of the approaches used to making big hair can leave it dry or tangled, resulting in damage. This means that regular use of the right conditioner becomes all the more important. The advantage of long hair is that it gives you more options because it can be shaped in so many different ways.
The key to the big hair look is not simply how much hair there is, but how much hair surrounds the face. If you have a high forehead it's best to adopt a style with a fringe in order to look balanced. Pale eyebrows may need to be darkened, and wearing stronger eye make-up will enhance the look.
Techniques for Building Big Hair
There are three basic techniques for making hair bigger: perming, crimping and back combing. Of these, perming gives the best balance between effort and results. Back combing produces the most dramatic effects but makes it very hard to maintain healthy hair. Crimping is the gentlest option but offers the smallest increase in volume.
Whichever approach you take, the trick is to combine it with large quantities of hairspray or mousse. If you choose the latter, avoid varieties that contain alcohol, as this will dry your already vulnerable hair. Big hair needs to be freshly styled each morning and can be quite time-consuming, as you'll need to build it gradually, layer by layer.
To do this, use a soft scrunchie to hold the bulk of your hair up on top of your head, leaving only the bottom layers hanging down. Spray these layers and brush or comb them into shape. Then let down the next layer and repeat. Be careful not to let down too much hair at once and overburden sprayed sections before the product has had time to do its job properly.
How to Cheat the System
If you just can't get your own hair to take on more volume, there are still ways you can get that big hair look. The simplest way to cheat the system is by using hair extensions, which can be woven into your own hair so as to be invisible to the untrained eye. These are often used to add length but can be equally effective at adding volume.
In addition to this, big hair can be made to look more dramatic with accessories. Ribbons and fine silk scarves can add to the impression of volume and can help to disguise the small scrunchies and grips you may be using to lift your hair. Big earrings can help to frame the face and give an impression of volume at the sides, though you should be wary of them tangling in your hair.
Maintaining a big hair look day to day can take a lot of effort but is a really effective way to stand out from the crowd and make the most of your naturally beautiful hair. It's a low-cost way to get a bit of glamour into your life and it can look spectacular on a night out.
You might also like...