The Pros and Cons of Hair Extensions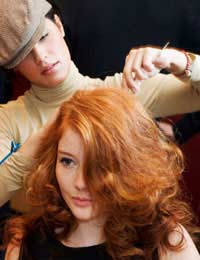 Hair extensions (synthetic or real hair strands that are added to your existing hair) are very popular in the hair accessory market today. This beauty treatment is often sought by celebrities and "regular" people alike to afford a quick hairstyle change or completely new look. Some individuals get hair extensions to help them achieve a dramatic look of added length or fullness for special occasions such as a wedding, prom, or other big night. Others choose hair extensions to give them the everyday hairstyle they could not have with their existing hair. And, while the extensions can give you a quick hairstyle change you need to know the pros and cons of getting this beauty treatment before you start.
The Pros of Hair Extensions
Aside from the obvious- added inches of luxurious hair- hair extensions offer many positives and benefits. The biggest benefit is the temporary nature of the hairstyle. With hair extensions you do not need to wait six to twelve months to enjoy long, swinging past your shoulders hair. And, if the long locks get bothersome you can quickly have them removed without the regret you would feel if you had spent a year achieving the length. Plus, the ease of hair extensions allow you try out a long look without the commitment.
The second benefit to hair extensions is the added fullness. When most people think of hair extensions they think of added length. However for individuals with fine, limp, or thinning hair, hair extensions are perfect for adding thickness, fullness, and volume.
Another benefit to hair extensions is their versatility. People with naturally straight hair can have wavy hair extensions applied and enjoy curl without a chemical process. Hair extensions also allow you to try out new colours or dramatic highlights without having to make a permanent commitment or damage your hair.
Finally, hair extensions are easy to take care of, if they have been properly applied, so the new look won't add hours to your morning routine.
The Cons of Hair Extensions
While the above benefits make hair extensions seem like a perfect, no worry idea there are drawbacks to this beauty treatment. One such drawback is the cost. In order to get the most natural looking hair extensions without doing major, permanent damage to your existing hair you need to purchase good quality hair extensions and pay to have them applied by a professional stylist. Depending on your stylist. The amount of length or volume you want to add, and the quality of the extensions you choose to buy this process can set you back anywhere from hundreds to thousands of dollars.
Another con or negative to hair extensions is the damage that can be done to your natural hair. Depending on how the fake hair is attached- glue, thermal heat, knotting, or braiding- permanent damage can be done to the hair strand or root that the extension is anchored to. Tight knots or braids can pull real hair out by the root, or weaken the hair strand. Glues, heat, and chemicals can split, burn, or break the hair strand or weaken its resilience.
Finally, hair extensions can take many hours to apply. Depending on the length, fullness, and number of extensions you are having applied, and the method of application you could end up sitting at the salon for eight or more hours.
Hair extensions can offer you a whole new look in a rather short amount of time, but they do carry some major drawbacks. Before making your appointment for hair extensions it is best to schedule a consultation with the stylists to make sure this beauty treatment is really right for you, your hair, and your dream look.
You might also like...